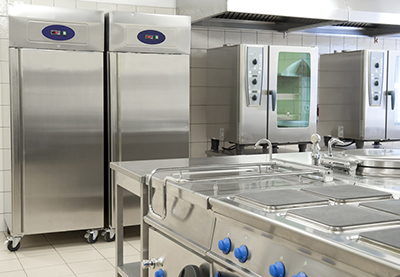 Commercial kitchens rely on all sorts of appliances to function properly from day to day. From something as simple as a microwave to something as complex as a clamshell grill, maintaining the function of these appliances is imperative to keeping things running smoothly. If and when they start to exhibit problems, make sure your first call is one to Kelly's Commercial Service.
Our capabilities
Not only can we quickly fix all of the small issues that might be hindering your kitchen's operation, we can also offer you complete repairs for larger appliances and more in-depth issues. We aim to be your complete source for appliance repairs, from the espresso machine to restaurant fryer repair in Redding, CA. Some of the appliances we're well-versed in include:
Ovens
Range hoods
Fryers
Convection ovens
Clam shell grills
Microwaves
Dishwashers
Garbage disposals
Espresso/coffee machines
Pizza ovens
Unfortunately, we do not provide service for refrigeration appliances such as fridges, freezers, ice-makers or frozen drink machines.
Businesses we serve
We're pleased to be a leading local partner for restaurants and eateries of all types, as well as schools, gas stations and any other facilities that require top-tier repair services for their commercial appliances. No matter if you're a small family-run diner or a huge multi-national food chain, we treat your service call with the highest respect and integrity.
Get quality service
If you find yourself with a need for restaurant stove repair in Redding, CA or are dealing with a critical appliance that's simply not functioning properly, waste no time in calling Kelly's Commercial Service today. We have trained professionals standing by who can deliver exceptional service to you, done right the first time. Call us today at 530-275-2285 for a free estimate on service.